News

We cordially invite you to the seminar organized by us. ROUND TABLE ABOUT CLEAN AIR.
10 June 2019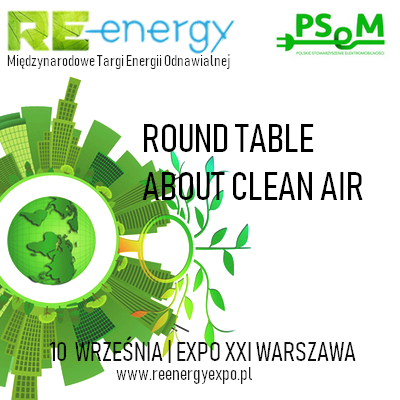 Seminar ROUND TABLE ABOUT CLEAN AIR
Organizer: Polish Electromobility Association
DATE: September 10, 2019, at 09:00 - 16:30.
PLACE OF TRAINING: EXPO XXI, ul. Prądzyńskiego 10/14, Warsaw
GROUP LIMITS: up to 60 people
COST OF PARTY: 500 PLN (net), early registration (until 30/06/2019) - 20% discount, PSEM members - 20% discount, fair exhibitors - 20% discount
Round table formula: This is an innovative formula for running panels, trainings or meetings. In contrast to the classical conference system, it enables interaction between participants, it creates the possibility of exchanging ideas and experiences. At each of the tables there is an in-depth discussion on the current issues regarding low emissions and co2 reduction in several dimensions. It is an idea that introduces dynamism, the possibility of integration and networking between participants and activating all involved.
The Round table formula is the optimal method of meetings when representatives of several parties meet, eg representatives of public administration or local governments, business representatives or the NHOs group. The formula allows to optimally plan the course of the meeting in such a way that each participant is included in the conversation process, so that each party can fully present their position and that the meeting ends with a solution or setting joint activities. This is a very popular method of so-called enabling and activating in such a way that all the parties feel equal and active. The round table process works perfectly in the process of social consultations, various public dialogues, during trainings or networking meetings. The architecture of the Round Table meeting offers benefits in meetings, arrangements and wherever people want to talk.
Thematic scope of the seminar:
1. Introduction to issues of CO2 emissions and low emission definitions. Participants will learn about the latest European arrangements and plans contained in the RED II Directive in various sectors of the economy, learn about GHG emission calculations [greenhouse gas] and learn examples of LCA [Life Cycle Assessment] to understand what an ecological effect is and how to designate it. [2 hours]
2. Modern, low-emission biofuels and biocomponents from biomass, that is new business and environmental opportunities in CO2 reduction, innovative low-emission economy models: Closed Circulation Economy, bioeconomy, eco-innovation in industry, as a way to low emissions: examples of good practices and solutions, explanation of concepts , workshops on case studies in the selection of the best solution for a sample problem [2 h]
3. Where to now look for money for ecological and environmental investments, new financial perspective and new financial instruments in Europe, interactive lecture with examples [45 minutes]
4. Electromobility is more than electric cars, Electromobility and energy and smart city - workshop aimed at reaching participants that electromobility involves everyone, can be an element of city management from the position of prosumer citizens, energy storage, use of renewable energy, reducing low emissions through energy production from biofuels, etc. [2 h]